Financial Management
Striking and decisive Finance Management Function helps you analyze and evaluate the business inferences and prompt decision making.

Supply Chain Management
Roadmap ERP Software modules provide you a comprehensive view to streamline your Supply chain process throughout the system.

Planning & Manufacturing
Rely with our integrated and cost effective ERP for adapting market instability and triggering your brand value with enhanced work schedule management.

Cost Management
Delivering a cutting-edge, assures cost savings and overall profit, analytical module and comprehensive approach for cost accounting.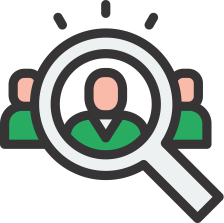 HR & Payroll
Streamline the core HR and Payroll functions for big business with our ERP suite which execute analytical reports, real-time strategic workforce

Customer Relationship
Register leads generated through multiple campaign programs; analyze qualify/disqualify the leads; and convert qualified leads into prospect.

Plant Maintenance
Plant Maintenance supports with proven optimum maintenance strategy for the entire operational facilities to achieve process improvement.

Engineering
R & D services assist you to achieve future potential products and revolutionize your vision into real time venture.

Project Management
Helps to meet the end to end pre-defined goals by tracking all the resources and monitor project development for overall operational excellence